Prof. W.A. van Gool
Pim van Gool has been appointed President of the Health Council of the Netherlands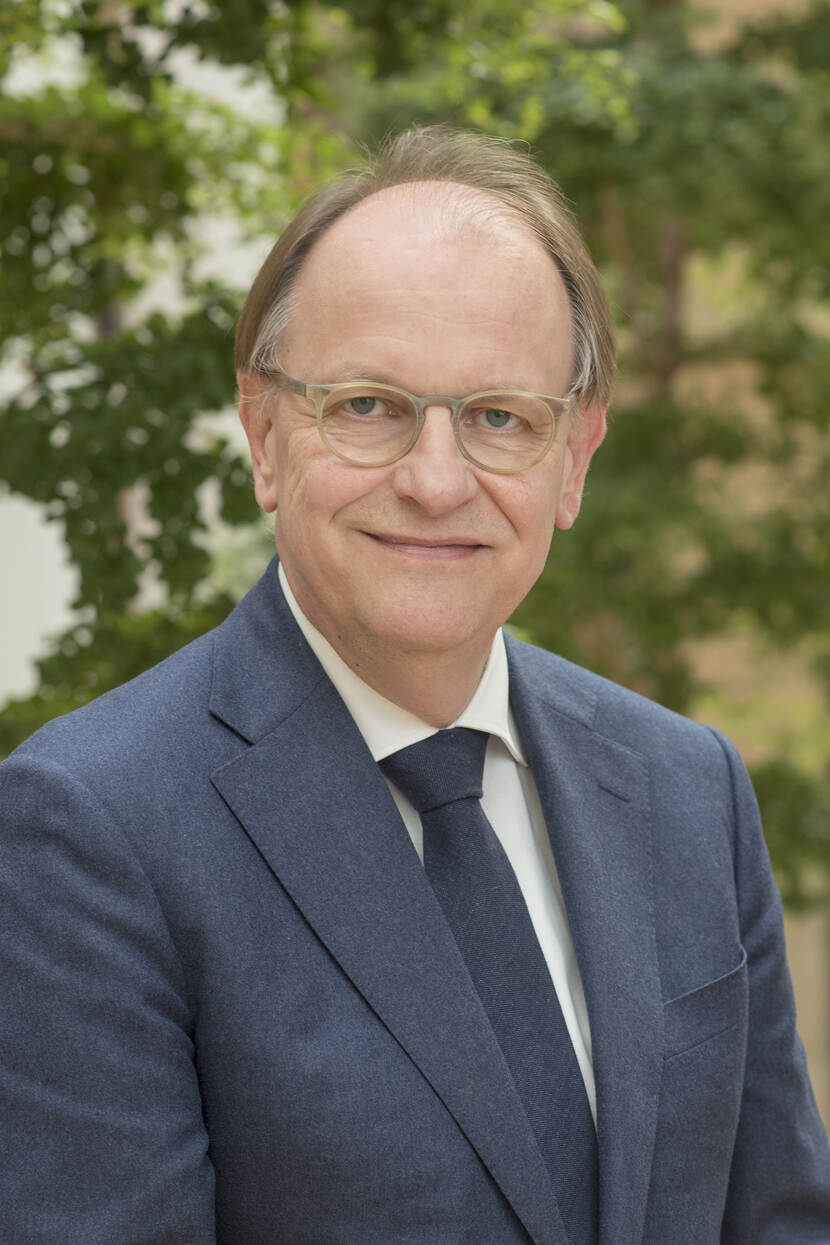 Image: ©Health Council / Photography: René Verleg
He was born in 1957 and studied medicine at the University of Amsterdam, where he gained a doctorate for an experimental study of cerebral aging in an animal model performed at the Netherlands Institute for Brain Research. He has more than 30 years' experience in healthcare and research. He was appointed professor of Neurology, with special reference to dementias, at the Amsterdam University Medical Center in 2000. His special interests were research into effective diagnostic methods, new medication, prion diseases and the prevention of dementia. He has also been active in fields other than neurology such as the study of learning disabilities, prevention in primary healthcare and forensic psychiatric disorders.
He has been a member of the Health Council of the Netherlands since 2005, and has been active as a member and/or chairman of various Health Council committees, national working groups tasked with producing guidelines in various fields, and scientific and social advisory councils.
At an international level, he is active in the European Dementia Prevention Initiative and is a member of one of the permanent scientific advisory groups of the European Medicines Agency (EMA).
His wide clinical background and extensive experience in research and administration at both a national and an international level make him admirably suited to chair the Health Council of the Netherlands.
Within the Council, Pim is the chairman of the Presidium Committee and of the Standing Committees on Genetics, Health ethics and health law, Health Research, Infection and immunity and Public Health.
Main positions
President of the Health Council of the Netherlands
Professor of Neurology with special reference to dementias at the Amsterdam University Medical Center
Neurology (Psychiatry of the Elderly) Consultant at the Dijk en Duin clinic in Castricum
Other positions
National
Secretary of the Board of the Remmert Adriaan Laan Fonds Foundation (administration, correspondence, taking minutes)
Member of the Board of the Dr Jan Meerwaldt Prize Foundation (jury, assessment of candidates)
Secretary of the Hans van Crevel Foundation (administration, correspondence, taking minutes)
Treasurer of the Spinoza Chair Foundation, Amsterdam University Medical Center (budget, financial accountability)
Chairman of the Graduate School Education Committee, Amsterdam University Medical Center
Member of the Board of the Biosciences and Society Foundation
Member of the Supervisory Board of the Netherlands Brain Foundation (scientific advice)
International
Member of 'Committee of Management', Cambridge Institute of Public Health, UK (advice)
Member of the 'Scientific Advisory Committee', Weston Brain Institute, Canada (advice, remuneration by postdoc fellowship financing)
Funded research
Healthy Aging Through Internet Counseling in the Elderly (HATICE). Funded by EU FP7 programme #305374
Postdoc fellowship Weston Brain Institute (for the duration of the membership of the S.A.C.)